We've had these Christmas Goodies available for order since early November, and we finally get a chance to put it online. Truth is, we have been swamped with corporate orders and wanted to make sure we could be steady before allowing more orders. So here we are, this is the flyer that has been distributed at our outlets for the last month: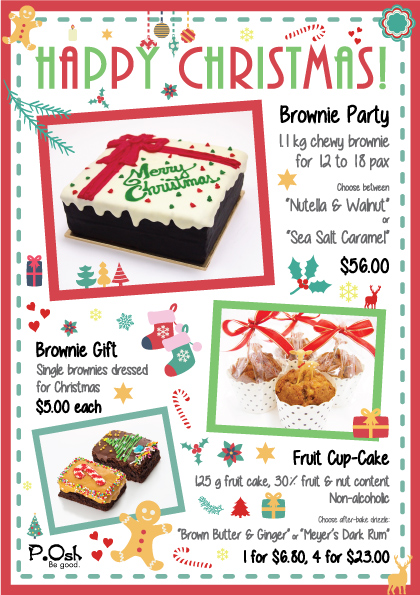 Just a few words:
Brownie Party – Maybe we have hit the sweet spot with this one. Our good old honest Chewy Brownie–lots of it–with two delicious fillings to choose from. Excitement you can trust–are we selling cars now? =P  And, a wonderful dark chocolate coating on the sides just helps to keep the brownie moist for longer–something we could all do with especially when enjoying brownies over a few days of celebration!
Fruit Cup-Cake – Smaller sized packing makes it great for gifting, but also for eating without the hassle of how to keep the remainder if it were a larger fruit cake. The fruit cake itself is good as ever, and the new non-alcoholic drizzle is super-awesome. This "cup-cake" is simply flying this year; you could try to order, but we might be sold out already.
Alright, enjoy the holidays, and Happy Christmas from all of us at P.Osh! =)