Having opened in Kovan since October 2013, walking into this place felt like strolling into our own backyard and finding a bustling carnival operating secretly for years without our knowledge. How did we miss this?!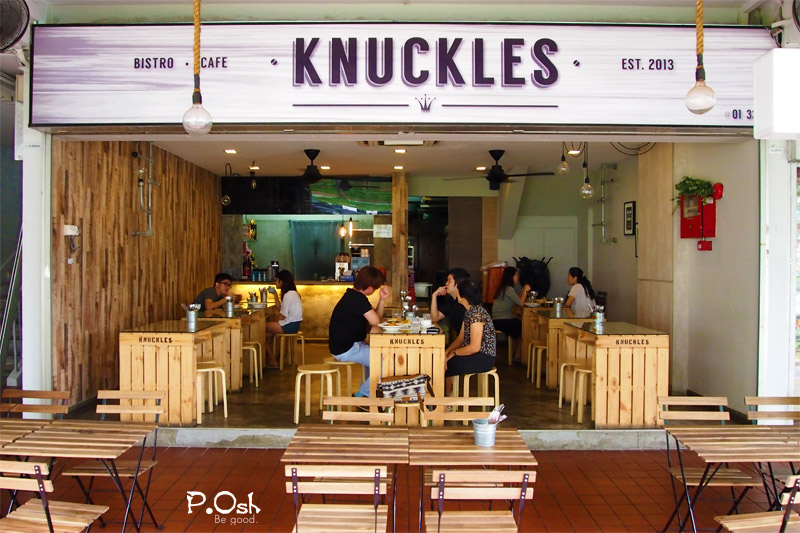 The name "KNUCKLES" might give a slight hint about what is sold here, but the décor of the place gives nothing away. Even then, the place–by its smart use of tables and wooden furniture–exudes a simple rustic charm that is open and inviting.
Being woody isn't the most interesting thing about this place, what we were most interested to find out was that one of the founders was a Master Butcher in an international chain hotel in Singapore for over a decade up till recently–soon after he started this place. With all that experience, little wonder that the burger patties and sausages are prepared in-house according to their own secret recipes! Well, the proof of the pudding is in the eating, so, here we go…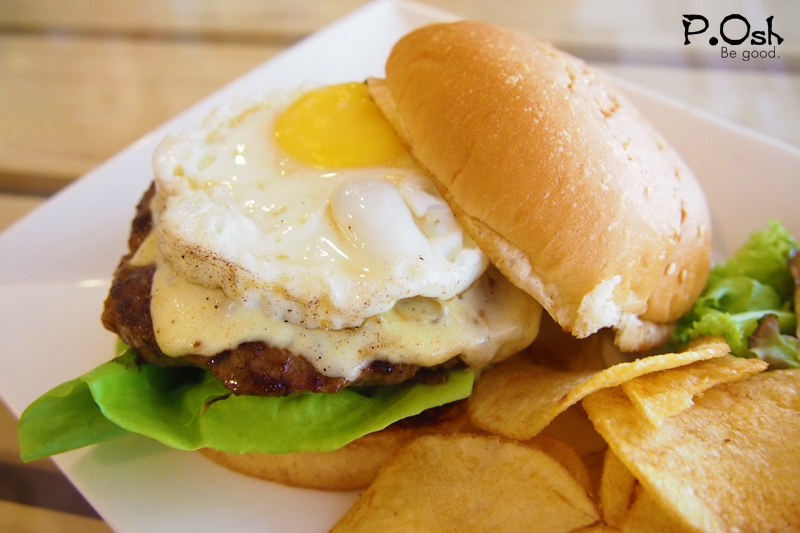 The first dish we tried was Knuckles's Beef Burger. It had a homemade beef patty, cheese, runny-side-up egg, and greens trying madly to balance and squeeze themselves in between two sides of a soft buttery bun. With that incredibly juicy and flavourful patty, this is some serious yummy stuff. Cheese always goes well, but enrich the whole experience with a runny yolk, and you've got yourself a winner of a burger. It's so good that it begs a certain regret–if only it was bigger… or maybe just give me two of that! Rawr. One other thing: we wonder why potato chips are the carbs or choice when there are fries available on the menu. Surely hot fries would make this dish a beast! We get carried away by footnotes. Back to the main point, a very satisfying real beef burger that packs a mighty punch! (ooh, another reason for "knuckles"?) Served with simple greens and potato chips. Knuckle's Beef Burger = 76 Brownie Points! ($10)
Next up was this whole German pork knuckle that really gives such a wonderful sense of occasion and would be suitable for any gathering whether special or casual.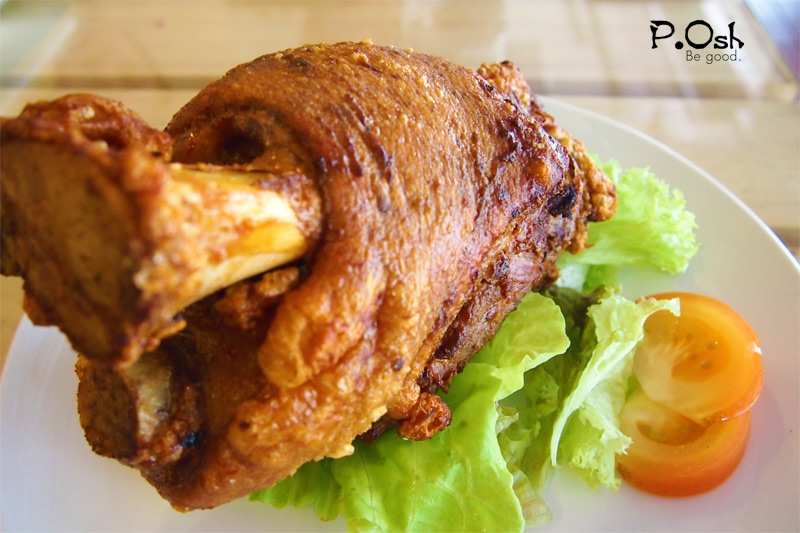 It looked really well done; golden-browned nicely with proper crackling in all the right places. If you forget to buy a birthday cake, this knuckle would do just fine with a birthday song. After you're done, get it cut up and plated for serving.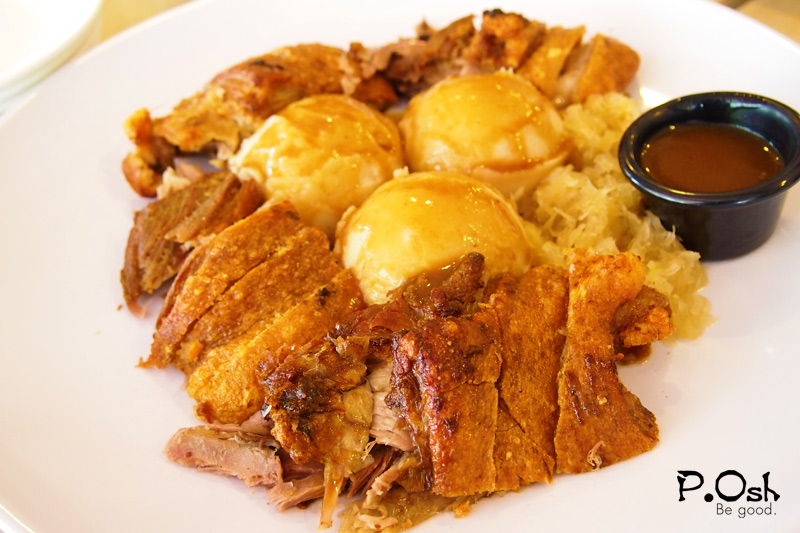 On the serving plate, mashed potatoes, Sauerkraut (fermented finely cut cabbage), and a dipping sauce are added. As you can see, the skin of the pork knuckle is crushes under the pressure of the cutting knife. And as you cannot tell from the picture, it's texture is crisp to perfection when crushed between teeth. The meat itself is good, but dip it into the sauce with each mouthful and you get an irresistible combination. The Sauerkraut's light acidity cuts through all the fatty goodness that has built up, and pushes the "reset" button of your tastebuds–ready to go at it again! Where else are you going to get such a dish in a simple setting? Definitely worth the try, whether in a single portion or as a whole knuckle. German Pork Knuckle = 80 Brownie Points! ($10 for single portion; $30 for whole knuckle)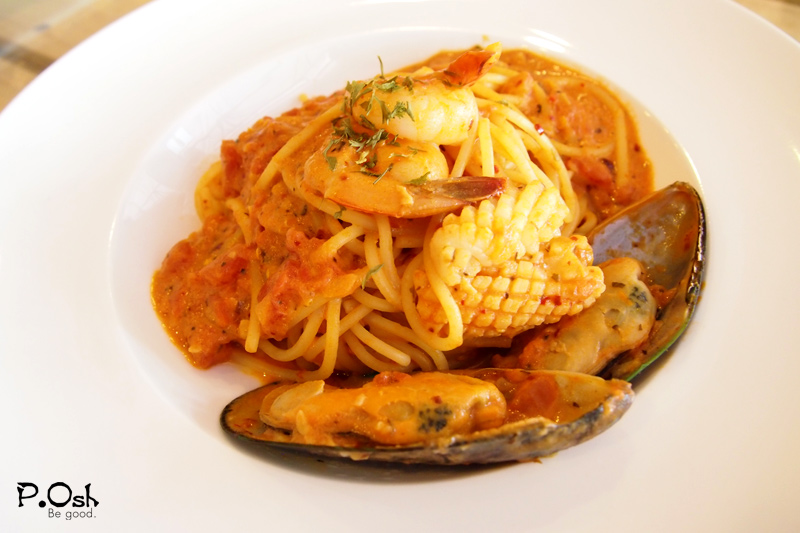 We also tried Knuckles's Signature Pasta. It was a simple seafood pasta dish in spicy tomato sauce. The sauce was pretty spicy in a good way–Singaporean style, we like! While the mussels, prawns, and squids were in good quantity, we did not find them particularly noteworthy. Probably a good choice if someone feels like not eating knuckles when coming to Knuckles! =P  Knuckles's Signature Pasta = 68 Brownie Points! ($12)
Does what it says; what else could you ask for?
KNUCKLES
Block 212 Hougang Street 21
#01-337
Singapore 530212
Tel: +65 6285 0549
Opening Hours:
12:00PM to 2:30PM (Lunch)
6:00PM to 11:00PM (Dinner)