So our brownies recently went for an adventure together with a kindergarten teacher. She leads a class of young children who need extra help with their English–and how wonderful these children, to learn English using brownies!
As they are a little weak in their conversational skills, the idea was to let them sell something so that they would have to carry out a tiny conversation with someone. In that time, they would have to greet and make small talk (haha!), introduce their yummy brownies, throw in a little bit of persuasion tactics, make that sale, and offer gratitude before saying "Bye!" Though that may seem pretty easy for many of us, these children needed more work in this area, and this was going to be a really good exercise for them. Some of them did not know the concept of Dollars and Cents, and so a sale activity was going to help explain this in a real way.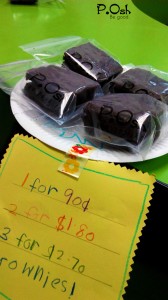 Now, they made their own little signs to be attached to their paper plates of P.Osh brownies, and in that they learnt to write Dollars and Cents, with a little bit of Math work too. Beautiful, huh! Ready to go now!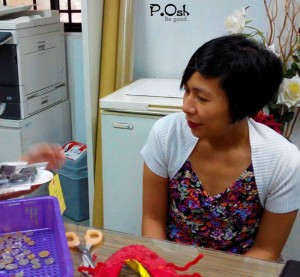 And so they went around their little kindergarten to sell brownies to teachers, and even outside to sell brownies to passers-by who were interested in getting some yummies for tea! Kudos to the other teachers who were patient to listen and talk to these enthusiastic learners of English!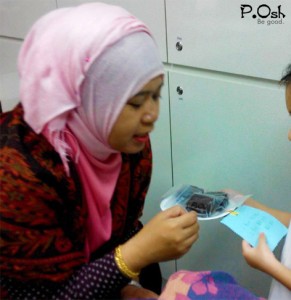 Teachers would also ask questions, and get the children to think beyond their scripts and get into actual, real-life, communications. And yes, the children did very well!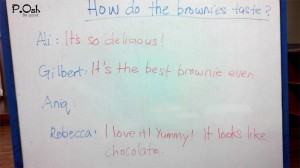 After all the hard work, it was time to taste some brownies! Reviews were rave, words of praise flowed, and we blush to see the extravagant praise lavished on those brownies… Well, anyway. So those brownies were an excellent reward for the day's work, but more excellent were the lessons in English learnt! We hope these children continue to improve and never be afraid of speaking English–well, it's only as hard as selling a brownie isn't it? =)
P.Osh