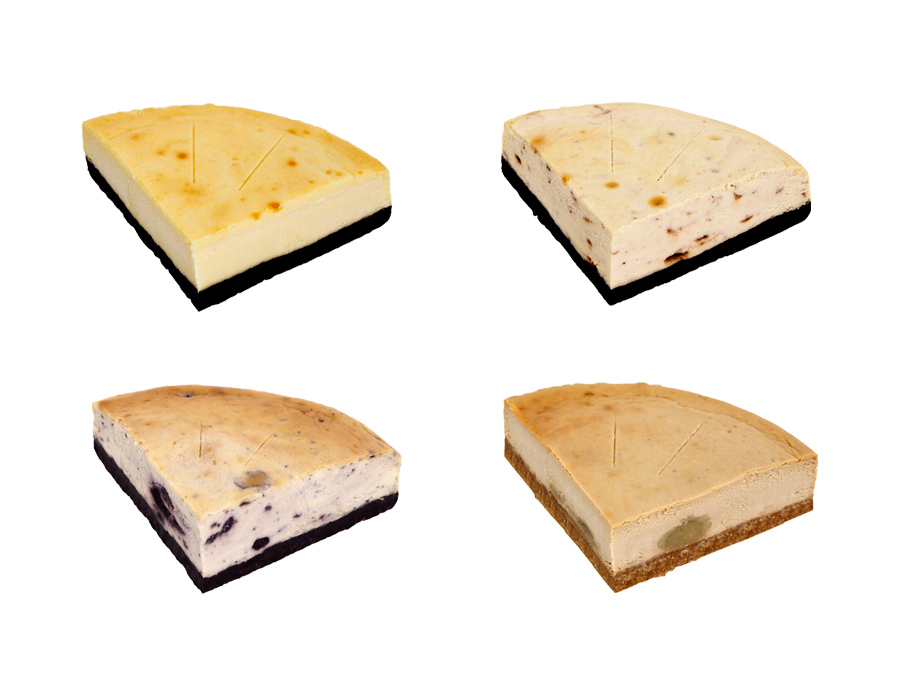 Cheese cake #wefie.
There are frozen cheese cakes all over the place, because–well–it is probably the easiest way to make a cheese cake. Sometimes, such cakes are called "no-bake" cheese cakes. Just soften cream cheese, throw stuff in, and freeze it back.
But not so for P.Osh cheese cakes; while they are finally frozen, they were not made by freezing–and that is one huge difference! After using a traditional blending technique, our cakes are baked carefully for an extended period of time. The setting of our cheese cakes is a delicate process that paves the way for freezing to create a unique texture that cannot be found anywhere else. Bake, then freeze. This process is lengthy and tedious, but every bit worthwhile once you have tasted and felt the end product. The texture is somewhat like ice-cream–but better, according to the many who swear by our cheese cakes–and you would have to keep coming back because there is no one on our scale crazy enough to do cheese cakes like we still do.
Back when we started, the internet was young with undeveloped content; Facebook had just launched and there was no such thing as smartphones, WhatsApp, or Instagram. The business of selling cakes was still very traditional where we would bake what we thought we could sell, keep the stock, and try to sell it as fresh as possible. There was no way to reach out directly to customers or notify them as soon as something they loved came out of the oven. We can now, and we feel it is time for a change in terms of how we sell our cheese cakes.
We plan to bake a cheese cake flavour each week and just before it is ready for sale, we will notify interested lovers of our cheese cakes via WhatsApp and Instagram to make pre-orders within a couple of days. Best of all, such deserving customers will be given exclusive discounts only released on these platforms. Pre-orders will be taken via our webstore, and any stock unreserved will then be released to walk-in customers at our shops or webstore. In this way, those who appreciate the most will be given the best and freshness levels will be upped a notch.
Age-old traditions make awesome cheese cakes–and we cannot compromise. But we will learn and break tradition when it comes to making you happy. Enjoy our cheese cakes!
To be notified of fresh cheese cakes for sale and for access to exclusive cheese cake discounts, please use one–or both–of the following platforms:
1. WhatsApp – Add "90070014" to your phone Address Book and then send us a WhatsApp text to add your number to our Broadcast List.
2. Instagram – Look for @poshbegood and "Follow" us to receive our posts.